Profile
Author:HERZOG

-- I'VE MOVED ! --
Please vist the
new blog
for more of the wonderful world of Japanese retro games !
上記の広告は1ヶ月以上更新のないブログに表示されています。
新しい記事を書く事で広告が消せます。
-------- --:--|スポンサー広告|▲TOP
バッドランズ


●

Genre: Interactive Movie


●

Release Date: 1984


●

Developer: KONAMI


●

Publisher: KONAMI


●

Media: LD-ROM
● System Specific: LD-V1000
■THESE ARE BADLANDS, PARTNER !

Meet BUCK a hard-working man whose wife and children have been brutally slain by a vicious band of thugs led by the ruthless LANDOLF.

BUCK has only one mission : To avenge the death of his family.
Not until LANDOLF and each member of his mob is dealt with will BUCK have his revenge --
Can You Collect The Reward ?

■GAME INTRODUCTION

KONAMI and the Wild West have an interesting backstory. One could just mention the arcade smash hit「SUNSET RIDERS」which left a profound mark in the arcade scene of its time. Older or more knowledgeable arcade gamers may also remember「THE GREAT TRAIN ROBBERY」which was another quality Wild West arcade game.

But interestingly enough, the very first Wild West game from KONAMI was「BADLANDS」- An interactive movie LD game that came out during the notorious LD game fever of the mid 80's.

BADLANDS is as a matter of fact the only LD game that KONAMI ever produced.


■THE 80'S LD GAME BOOM

The LD game boom of the 80's was a very peculiar time. I was just a kid back then, but the better impression I have now is that a few game companies somehow believed that the LD format would help them cheat the technology limitants of the period, and so for a short while they became a bit too euphoric about the whole thing.

This didn't last long though, and my guess is that they probably came to the realization that putting some actual substance (i.e. quality gameplay) behind all that fancy LD video footage would be just too complex and costly.

Two Wild West games from 1984 :

「WILD GUNMAN」

and

「BADLANDS」

. One can see why LD games caused such a fuss back then.

In the case of KONAMI however, I think they were just along for the ride and released BADLANDS more as an experiment than anything else.

And if that was indeed the case, then it certainly would explain why the game lacks the compelling gameplay mechanics (in this case even for LD game standards) that characterizes most KONAMI games.


■SHOOT, COWBOY !

BADLANDS simplifies the LD game experience to one button :「SHOOT」. But still the game is far and away from being a smooth ride.

The instruction card basically tells you to push the shoot button whenever you sense danger coming, but the problem is that the game doesn't work like that at all!

Save a few instances when an aiming reticle shows up on-screen, the shooting timing in BADLANDS is more than often completely bizarre. It's not a simple matter of catching a glimpse of the enemy and shooting. No, that probably would've made the game enjoyable, and it seems that's about the last thing the programmers wanted.

No, to beat an enemy you'll have to figure out - mostly through trial and error - the precise time in which you're supposed to shoot at them. This will be very difficult though since the reaction time limit is extremely brief (less than 1 second!) and any scene you fail will be skipped automatically.

It also doesn't help that the game lacks a continue option.

A henchman sneaks from behind!


OUCH ! ! ! It seems... I wasn't...
fast enough...


It's what's for dinner... YOU !
The MISS scenes can be hilarious.


Still, just like any other arcade game BADLANDS can be mastered. If you play the game enough times you will eventually figure out when to shoot and then the bad guys will start dropping one after another.



Hey, Nice Mohican ! This has to be my favourite MISS scene, EVER !

Unfortunately I don't think BADLANDS has much of a replay value, so I really can't see a lot of players sticking with the game long enough for them to be able to memorize it.

And it's certainly a real shame that BADLANDS isn't a more compelling game because the animation itself is excellent and the Wild West/Revenge theme is just plain cool. Thus you really can't help but get the feeling that there was a lot of lost potential in this title.

I really think KONAMI should have reworked their game concept and built BADLANDS into a proper light gun shooting game. Imagine an anime「MAD DOG McCREE」esque LD game back in 1984. Now that would have been awesome!


■THE BANDIT HUNT BEGINS !

Why This ? Why Us ? Why ? -- Those are the questions that continue to haunt BUCK's mind. He knows he can't and won't rest until the bastards responsible for ruining his life are 6 feet underground.

【 ROUND 1 : TOWN 】



SMITH notices BUCK is giving a careful look at his wanted flyer. Unfortunately for him, BUCK becomes aware of his presence.

SMITH and his henchman are pretty easy targets so you shouldn't have any problem pumping them full of lead.


【 ROUND 2 : DESERT 】

BUCK is now on to HAWK. His trial has led him to the heart of the desert.


The biggest threat here will be the snake that shows up in the beginning. You need to wait till it's right in front of you before shooting it.

Also, try to take HAWK down as soon as you see him running between the cactus trees. That way you won't have to deal with his axe attacks nor with the scorpions that can also show up.


【 ROUND 3 : MOUNTAINS 】

The mountains are a dangerous place - The PACO-BROTHERS, a puma, and a cave full of bats are some of the dangers that BUCK can face in this place.

However, nothing can prepare BUCK for...

【 THE MYSTERIOUS LOG CABIN BEAUTY ~ ♪ 】



BUCK passes by a lone log cabin in the mountains when all of a sudden a beautiful young woman comes out and rushes to greet him. (*∇*)

...!?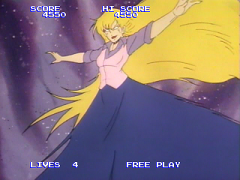 *AAACK ! ! !* NOOOOOOO WAAAAAAAY ! ! ! (O_O;)

I must admit I never saw that coming...


【 ROUND 4 : TIME SLIP 】

BUCK swore to chase down those responsible for killing his family to the depths of hell itself if need be, but I think he might have gone a bit too far...

【 BEWARE OF MONSTER ATTACK ! 】



The shoot timing for the skull cowboy, the「It Came From The Lagoon」monster, and the two-headed dinosaur seems to be the same : Basically try to shoot as soon as you see them turning to look at you. Not a second earlier !


【 CAVE GOLEM 】
The cave golem is a rare random encounter but don't go letting your guard down.

The shoot timing is also a bit more tricky than with the rest of the monsters. You have to wait until the golem is completely formed before shooting.
【 PTERODACTYL 】
The pterodactyl is lighting fast and can get to you before you even know what happened.

Your timing clue should be the lighting strike that precedes it. As soon the scene changes, shoot right away.
【 ROUND 5 : RIVER AMBUSH 】

BUCK must be some kind of bionic super cowboy since he just jumped off a cliff, swum in the rapids, then came out of it without even losing his hat!

After witnessing such a feat, rather setting up an ambush I would've gotten the hell out of there for sure!

By the way -- Although you can clearly see BILL going down in this part, he can still show up again later on. So maybe the coward was just faking it!


【 ROUND 6 : THE CHURCH 】


Those damn bandits don't even fear God!

Up to two goons can show up at the bell tower. Shoot them down as soon as you spot them.

Afterwards the「Wild Mexican」boss will appear. Put a hole in his poncho when you see the reflection effect on his gatling gun.
【 ROUND 7 : DEAD AIM 】

In the following scenes BUCK will be using a rifile, thus the shooting mechanics will change a bit. An aiming reticle will appear on screen and you will have to wait for the enemy to be right on sight before shooting.

The hanging bridge scene with BILL is a rare random encounter so it won't always happen. I've noticed however that the scene tends to show up more often if you take too long to clear the previous caravan shoot-out scene.


【 ROUND 8 :  RETURN TO TOWN 】



BUCK takes the train back to town and boy, this place is insane! Everyone, from hired killers to third age train drivers want to take a shot at BUCK for some reason.

Curiously enough, there's a MISS scene here that won't result in a loss of life. Instead, a poor gal passer-by will take the bullet for you... Tough Luck !

Anyway, your main target here should be MARRY. When you see her make sure to give that skank just what she deserves!


【 HE'S IN THE JAILHOUSE NOW 】
Whatever you do, don't go shooting anyone before they reveal themselves as clear threat to you or they'll never let you hear the end of it!

In the best-case scenario BUCK will get sent to jail. In the worst, he *GASP* will get hanged!
【 ROUND 9 : SALOON RUMBLE 】
This can't be a proper Wild West adventure without a good ol' saloon fight.

3 possible rivals (including the bartender) await you inside. As usual, wait for them to become a threat before sending them to meet their maker.
【 ROUND 10 : BANK ROBBERS 】

Now BUCK must play the part of the town sheriff and chase down 3 bank robbers.

The shoot timing is as follows :

・1st bandit : When he turns around and points his gun you.
・2nd bandit : As he's ducking behind the horse.
・3rd bandit : As soon as the mother catches on to her children (the right time is when the mother lets out a scream)


【 ROUND 11 : THE FINAL DUEL 】

Finally, BUCK has come face to face with LANDOLF. The final duel with begin shortly.

A bit before that however someone will be throwing some dynamite at you. And it looks like the animators got a bit confused here because if you fail to destroy it LANDOLF will be the one that gets blown up.




「WHEN THIS COIN HITS THE GROUND ONE OF US WILL FALL WITH IT」

Too bad you can't pull of a SNAKE PLISSKEN move here and play a little「Bangkok Rules」. That dog LANDOLF deserves no less!

Anyway, you will have to wait until you hear the coin sound to make your shot. You only get one shot at LANDOLF and as usual there will be no retires -- DO NOT FAIL !

Regardless of whether you win or lose the duel though, the game will loop afterwards.

Hopefully you will win the duel and BUCK will ride off into the sunset in victory. His quest for revenge is finally at an end.





(C) KONAMI 1984

スポンサーサイト
2011-10-23 01:07|ARCADE|Comments:0|Trackback:0|▲TOP
Comments
コメントの投稿
Favorite Links